Back

Australian Age of Dinosaurs Museum of Natural History is home to the world's largest collection of Australian dinosaur fossils, including some of our most famous such as Australovenator (Banjo) and Di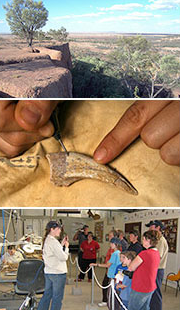 Australian Age of Dinosaurs Museum of Natural History is home to the world's largest collection of Australian dinosaur fossils, including some of our most famous such as Australovenator (Banjo) and Diamantinasaurus (Matilda). Not surprisingly, it's also the site of Australia's largest fossil preparation laboratory!
Located on top of a huge mesa plateau near Winton called "The Jump-Up", a wonderful attraction in itself with huge rocky outcrops, cliffs, canyons and spectacular distance views. Self-guided walking trails let you explore The Jump-Up at your own pace.
Tours of the dinosaur collection and fossil preparation laboratory start every two hours from 9 am to 3 pm daily and there's a gift shop with refreshments on site.
Getting there is easy; the museum turnoff is just 13 km south of Winton on the Landsborough Highway and then 12km further on an unsealed road. All directions are prominently signposted.
Open 7 days, 8:30 am – 5:00 pm daily from April to September
Closed Sundays from October to March
Closed Christmas and Boxing Day
Guided tours start 9 am, 10am, 11 am, 12pm, 1 pm, 2pm, 3 pm