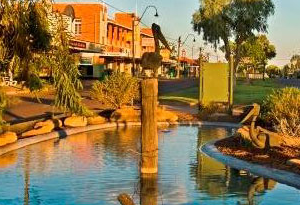 Land was taken up in the Winton District in 1866, with settlers encouraged by good reports from explorers Landsborough and Walker. Winton was originally located approximately 1km west of its current location, and known as Pelican Waterhole. This settlement was flooded out in 1876, and a man name Robert Allen shifted to the present site of Winton, out of reach of the flood waters. Robert Allen acted as the Postmaster at the time, and local legend has it that, finding the name Pelican Waterhole too cumbersome to write on postage stamps, he changed the settlement's name to Winton, after the suburb of Bournemouth, England, where he had been born.
Winton was officially gazetted as a town on July 5, 1879. In October 1886, the Winton Divisional Board was formally created. Elections were held on January 1, 1887 in three divisions for membership, and the first meeting of the Winton Divisional Board was held January 12, 1887. With the passing of the 'Local Authorities Act' of 1901, the Winton Divisional Board became Winton Shire Council in January 1902. The existing local government area remained unaffected by the 2008 Council Amalgamations. The town of Winton has remained the Shire administration centre for all of this time.
Since settlement, Winton has played host to a number of important events, which are written about elsewhere on this site - such as the birth of QANTAS and Waltzing Matilda. Winton is the Shire administration centre and is the largest town in the Shire, home to around 900 people and visited by many each year.