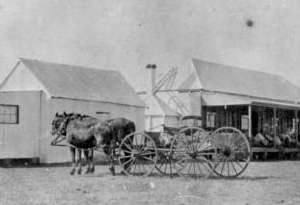 Middleton's history begins with the exploration of the area in 1862, when John McKinlay passed through the area in search of the lost expedition of Burke and Wills. He left Adelaide in 1861 with a party of nine and early in 1862 they followed the Diamantina on its eastern bank up to a point near old Cork Station, and then turned north-west, following a creek, and becoming the first white men to enter the Winton District. On April 10th, 1862, the creek was named in honour of W. Middleton, McKinlay's second in charge. They passed by the present site of Middleton Township and continued on towards the Gulf. The memorial cairn in front of the old hall lists the men who were part of the exploration party.
The Middleton Hotel was built during the Cobb & Co. era, and was a changing station, where tired horses were replaced with fresh horses, on the route between Winton and Boulia. It formed one of the "Nine Pillars of Cobb & Co." These Pillars represent the nine oldest and original Changing Stations for the coaches of the Winton to Boulia Route, which was 240 miles (384 kilometres), and took four days each way. It was called Mail Service 216, and the contract was held between 1895 and 1915. Look for the memorial cairns along the Winton-Boulia Road, each one representing another of the Nine Pillars of Cobb & Co. – Winton, Elderslie, Woodstock, Middleton, Makunda Hotel, Lucknow, Hamilton, Warenda Bore and Boulia.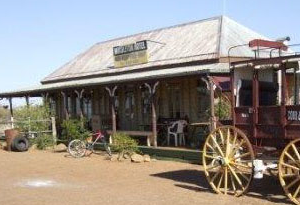 Middleton has slowly declined over the years, and all that survives of the settlement is the Middleton Hotel, campground and the disused Hall. The Middleton Hotel now has the distinction of being one of the most isolated pubs in Queensland.
Friendly Western hospitality can be found there, so stop in for a coldie and a yarn enroute to Boulia, or as a day trip from Winton. Cabin accommodation is available, or check in to the 'Hilton Hotel', the free campground across the road.