Birthplace of QANTAS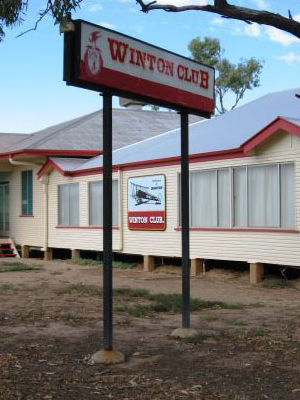 The local saying about QANTAS is that it was conceived in Cloncurry, born in Winton and grew up in Longreach.
The Winton chapter of QANTAS begins when the Birth of QANTAS was announced on November 16th, 1920 in Winton with the initial registration of the company – Queensland and Northern Territory Aerial Services Ltd. Subsequently, the first Board Meeting was held at the Winton Club on February 10th, 1921. Later in 1921, the Winton Shire Council became the first local authority in Australia to support Commercial Aviation after subsidising by half the cost of establishing a landing field in Winton, to the sum of £20.
The main headquarters of QANTAS was eventually shifted to Longreach, as a more logical location.
Winton commemorates the establishment of QANTAS with a commemorative cairn in Elderslie St. There is also a cairn erected at the site of the landing field.
To commemorate the first meeting of QANTAS, the late Mr N. Dooley Powell, Queensland Manager of QANTAS, unveiled a plaque on the wall of the Club Bar on 12th November 1970.