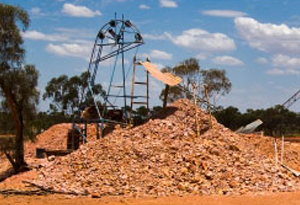 Opalton is situated 123km from Winton. It is one of the largest opal fields in Queensland and is known for the quality of opal mined. It is believed that opal was first discovered by George Cragg, a stockman from Warrnambool Station, in 1888, and the first mine was worked in 1894. At one time, Opalton was a bustling township and there were more than 600 men working the opal field, around the turn of the 20th century. Since that time, the population has dwindled to approximately 25 today. In 1899, the largest piece of pipe opal ever recorded was discovered at Opalton – it was over 10 feet (3m) long and rumoured to be as thick as a man's leg!
The majority of the journey is on an unsealed road. No food, drinks or fuel are available in Opalton. Please ensure you are fully stocked prior to your departure from Winton.
Accommodation
There is camping available at the Opalton Bush Park – showers and toilets are provided, as well as a sheltered BBQ area. Cost is $2 per night.
Enquiries at the Winton Visitors Information Centre.
Tel: 1300 665 115
For more information about opals, visit: Opals Information