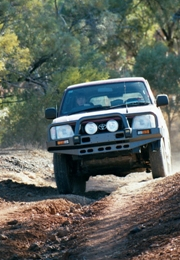 Rich in culture and heritage, Winton is the ideal place to discover Queensland's Outback. Situated in the heart of Matilda Country, Winton has many claims to fame including the Australian Age of Dinosaurs where you'll see the world's largest collection of Australian dinosaurs and the biggest dinosaur laboratory in the southern hemisphere.
Drive your own adventure with your choice of five self drive loop brochures (view map):
Winton – Waltzing around Winton
Explore Winton's history and many town attractions including the Waltzing Matilda Centre, Corfield and Fitzmaurice Building, Opal Walk and Open Air Theatre Museum, Winton Diamantina Heritage Truck and Machinery Museum, Musical Fence and Arno's Wall.
Bladensburg National Park- Route of the River Gums
From the shade of surprise creeks river red gums and coolabahs, you can view the vast plains of Mitchell and flinders grass. Flat topped mesas, plateaus and residual sandstone ranges provide a scenic backdrop to Bladensburg National Park. Formerly a grazing property, Bladensburg was dedicated as a National Park in 1994. The park conserves 85, 000 ha of Mitchell grass and Channel Country, a number of scenic waterholes and culturally significant sites.
Opalton– Try Your Luck
Capital of Queensland's boulder opal, Opalton lies about 123km from Winton. Opal was first discovered here by George Cragg in 1888 and the first mine was worked in 1894. Notably, in 1899 the largest piece of opal ever recorded was mined from here, a pipe opal more than three metres long. Try your luck in the public fossicking area.
Dinosaur Stampede National Monument – Dino Drive
Dinosaur Stampede is situated 110km south-west of Winton in the Lark Quarry Conservation Park. Discover the story behind the world's only recorded evidence of a dinosaur stampede with a visit to the award-winning complex. A guided tour is essential to view the Trackways, with daily tours operating between 9 April to 8 October 2017, 8.30am to 5pm. Tour Times: 9.30am, 11am, 12pm, 1pm, 2pm and 3pm., offering a comprehensive coverage of the history of the Trackways, from creation to discovery and display.
*SUMMER HOURS 2017/18: 9 October 2017 to 14 April 2018, Open Monday to Saturday 8.30am to 5pm*
Old Cork Station and Diamantina National Park – Pioneer Trail
Discover life on a station on this scenic one day drive. Enjoy a spot of fishing or swimming in the waterholes en-route, and consider a visit to the Middleton Pub on the way home. Take a picnic lunch and bring plenty of water. Cawnpore Lookout is a good spot for lunch, with scenic views across Mesa country.
Diamantina Lakes Station was purchased by the Queensland Government and dedicated as a national park in 1992. This 507,000 hectare park conserves the vast open plains and sandstone ranges of the Channel Country in far south-west Queensland and is rich in natural and cultural history.
9 Pillars of Cobb & Co
Winton to Boulia - Drive the road less travelled with historical sites and awe-inspiring scenery between Winton and Boulia. Take the un-sealed return trip via Diamantina Natioal Park and Old Cork Station
Birds of the Winton Shire
Winton Shire is home to over 150 different species of birds, with many locations for birdwatching opportunities.
Please ensure you call in to the Winton Visitor Information Centre to check on road conditions before embarking on your Winton Experience