Back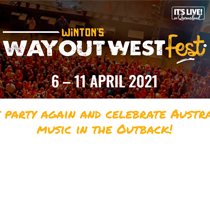 Let's party again and celebrate Australian music in the Outback! Enjoy a weeks worth of Artists and activities at Winton's Way Out West Festival!

Main Stage
Thursday
3pm – 4pm Lights on the Hill – A Slim Dusty Tribute
4.15pm – 5pm Chad Morgan
5pm – 5:10pm The Crackup Sisters
5:15pm – 5:45pm Linc Phelps & Band
6pm – 6:50pm Sara Storer & Band
7pm – 7:50pm The Bushwackers
8pm – 9:30pm Slim & I Movie
Friday
2:30pm Welcome to Country
3pm-3:45pm Linc Phelps
4pm-5pm Adam Harvey
5:15pm-6:15pm Beccy Cole
6:45pm-7:45pm Sheppard
8pm – 9pm Wolfe Brothers
Saturday
3pm-3:45pm Pete Cullen & The Hurt
4pm-5pm Casey Barnes
5pm – 5:10pm The Crackup Sisters
5:15pm-6:15pm Busby Marou
6:30pm-7:30pm Daryl Braithwaite
8:00pm – 9pm Lee Kernaghan
* The times listed here are a guide only for complete and up to date performance details please see the Wintons Way Out West Fest program page!